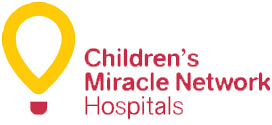 Children's Miracle Network Hospitals is a non-profit organization dedicated to saving and improving the lives of children by raising funds for local children's hospitals. The 170 Children's Miracle Network Hospitals throughout the United States and abroad provide the finest medical care, life-saving research and preventative education. By helping over 17 million kids each year, we touch the lives of more kids and their families than any other children's charity.
In the Greater Kansas City Area, proceeds benefit the University of Kansas Medical Center Pediatrics. KUMC is the region's only advanced care academic medical complex. It provides a combination of research and care need to treat your child today as well as find the treatments of tomorrow.
KU Pediatrics offers state-of-the-art medical facilities which are available 24/7 to help kids of every age and background overcome every imaginable disease and injury-from asthma and broken bones to cancer, heart defects, pediatric AIDS, muscular dystrophy and life-threatening injuries.
Debbie Staab (Team Leader): Miracle Agent, 2014-'16
Staab Realty Group proudly donates to the Children's Miracle Network after every closing.
For more information or to donate, visit: wof.childrensmiraclenetworkhospitals.org
---
Harvesters' mission is to feed hungry people today and work to end hunger tomorrow.
They are a regional food bank serving a 26-county area of northwestern Missouri and northeastern Kansas. Harvesters provides food and related household products to more than 620 not-for-profit agencies including emergency food pantries, community kitchens, homeless shelters, children's homes and others. They also offer education programs to increase community awareness of hunger and teach about good nutrition.
Harvesters' main facility is located in Kansas City, Missouri at 3801 Topping Ave. Harvesters also operates a second facility in Topeka, Kansas at 215 E. Quincy St.
Harvesters is a certified member of Feeding America, a nationwide network of more than 200 food banks. In 2011 Harvesters was Feeding America's Food Bank of the Year. They are a registered 501(c)3 nonprofit organization.
Harvesters also is one of five regional disaster relief staging sites for Feeding America. They continually store a supply of food, water and cleaning supplies that can be sent to a disaster site on short notice.
For more information or to donate, visit: www.harvesters.org
---
The mission of the U. S. Marine Corps Reserve Toys for Tots Program is to collect new, unwrapped toys during October, November and December each year, and distribute those toys as Christmas gifts to less fortunate children in the community in which the campaign is conducted.
The primary goal of Toys for Tots is to deliver, through a new toy at Christmas, a message of hope to less fortunate youngsters that will assist them in becoming responsible, productive, patriotic citizens.
The objectives of Toys for Tots are to help less fortunate children throughout the United States experience the joy of Christmas; to play an active role in the development of one of our nation's most valuable resources – our children; to unite all members of local communities in a common cause for three months each year during the annual toy collection and distribution campaign; and to contribute to better communities in the future.
The principal Toys for Tots activity which takes place each year is the collection and distribution of toys in the communities in which a Marine Corps Reserve Unit is located. In communities without a Reserve Unit, the campaign can be conducted by a Marine Corps League Detachment or group of men and women, generally veteran Marines, authorized by Marine Toys for Tots Foundation to conduct a local Toys for Tots campaign. Local Toys for Tots Campaign Coordinators conduct an array of activities throughout the year, which include golf tournaments, foot races, bicycle races and other voluntary events designed to increase interest in Toys for Tots, and concurrently generate toys and monetary donations.
While Toys for Tots Coordinators organize, coordinate and manage the campaign, the ultimate success depends on the support of the local community and the generosity of the people who donate toys.
For more information or to donate, visit: www.toysfortots.org
---
The Brian Patrick Euston Foundation: Wherever Brian went in his 24 years of life, a story followed. His passion for his family and friends, humor and adventure made him the lovable person he was. Since the day Brian was born, he never knew a stranger. He was a Brookside celebrity, a hero in Oklahoma and a legend in Germany. He had a contagious spirit and a profound love for life.
Brian always had a way of bringing people together. Each year, he brings over 450 golfers and onlookers together to benefit two of his favorite places, Rockhurst High School and St. Peter's School. The foundation benefits students who otherwise may not be able to experience what Brian loved so much.
For more information or to donate, visit: aroundforbrian.org